After the amazing day visiting central Park and midtown, we were ready to stretch our legs and visit Brooklyn. This also meant our first underground ride. Gosh, it felt such a travel back in time! I didn't took any photos inside, which I have to admit it was a bit shameful, but I didn't feel secure enough to do so.
It feels like I was travelling in a museum artefact! Well it works. Really loved the concept of the express trains, which skip a few stations and end up being the fastest way down-town.
The easiest way to travel actually, it's way faster and cheaper than a taxi ride. You can buy the metro card and top it up in any station. A single ticket costs you $3, but with the card it's $2.75.
Love the architecture! These buildings are simply gorgeous in my point of view
Now here's something silly, I didn't check the settings on my camera and apparently I was photographing with ISO 1600, this is why the exposure looked so funny.
Tip: Always check your camera settings and ensure you're reset them before you turn off the camera. Always!
So many of my Brookly Bridge photos are rubbish and were deleted. Plus the light in the sky was too high, which meant a lot of glare. But still managed to save a few I like
Here's another place I had on my wishlist but where my photos didn't turn out the way I was expecting and picturing in my head.
Expectation
Reality:
Tip: The best view from Brooklyn Park is at sunset / night, so ensure you save the bridge for the late afternoon
After a stop at Starbucks (yap, we've spend loads on Starbucks, as we went at least twice a day) in Dumbo we've decided to go back into the city via Manhattan bridge
The views from Manhattan bridge are really awesome as they include Brooklyn Bridge in the scene
You can also enjoy the views into Chinatown, which I recommend!
After Chinatown, which I found a lot more interesting than it's London version, it was time for Little Italy. This is where I've spotted quite a famous painting by Tristan Eaton (from Brooklyn). You can visit his website here.
After our long walk in the morning, we were more than ready for an american lunch (big portions!). He decided to visit Katz, a famous dinner in the east side. And oh wow, quite an experience!
As you get in you notice this buzz of people around. It's quite big! You will get a ticket upon arrival which you'll be using at every counter as you order your food. We went for the famous pastrami sandwich. Next time we'll order 1 for the 2 of us. One was huge! I could barely do half of it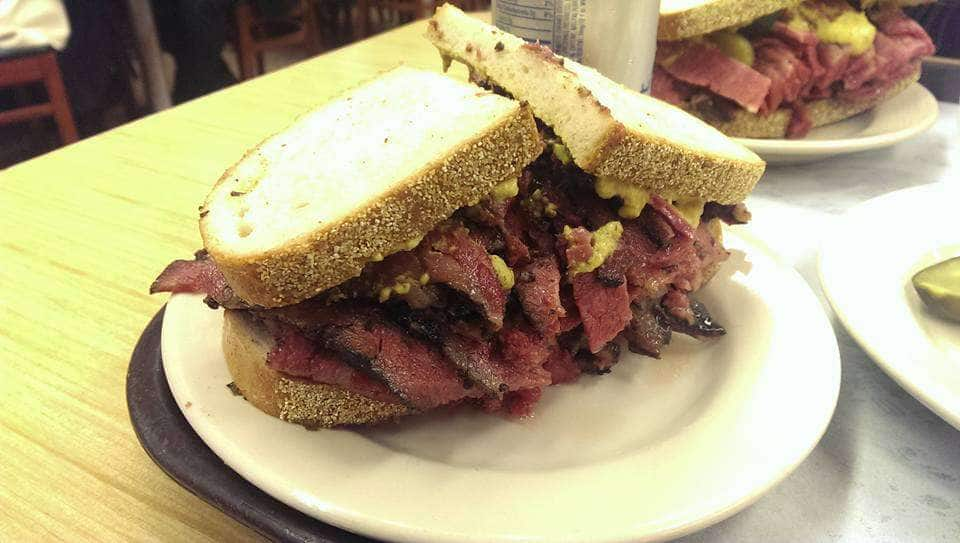 The pastrami was really delicious! I ended up not having any dinner, just a tea, cheese and crackers at the lounge as I was still full!
One of the famous spots that needs a visit is the Grand Central Station
Again it was really hard to get a decent picture and actually I've ended up damaging my card trying to get one. Fortunately we've later managed to save the photos from the card (just lost a few ones)
But the building is indeed quite beautiful and totally worth a visit. We've decided to carry our walk back into the hotel, even though I could barely feel my legs after this point.
It was our first walk through the famous 5th avenue.
Once I've reached the hotel (17km later) I could barely move my legs. This is what happens when you do pretty much nothing during the year, your legs can't cope with all the walking.
After a big of rest and some nibbles at the lounge we went to visit another rooftop, which was recommended by the staff in the hotel (we've asked for a nice rooftop nearby).
The Roof @ Viceroy Hotel
I didn't really took pictures of the rooftop so using the website ones
Which rooftop is your favourite?